COMPLIANCE
Murakami Corporation has built a healthy corporate structure centered around a Compliance Committee and maintains a comprehensive set of compliance rules for every company within our group. In addition, we regularly invite outside instructors to conduct educational seminars for employees group-wide.
We particularly focus efforts on proactive preventative measures to avoid issues that would severely impact continuity of business, such as unreasonable trade restraint or bribery.
Compliance Rules
1. Murakami Corporation Corporate Charter
Conduct all business dealings with fairness, transparency, and in the spirit of the free market while maintaining healthy relationships with local governments and administrators.
2. Compliance Policy
Murakami Corporation strives to conduct all business in the spirt of being "Open & Fair" and to that end, we have set Compliance Policy, which serves as the foundation of our pledge to legal compliance in all business activity.
Our responsibility as a corporate citizen is ever-present in our minds, and we conduct all operations with the goal of maintaining the trust and faith of society.
Our aspiration is to be seen as a model of transparency in management, with an aim towards open communication with society and, first and foremost, proactive and proper disclosure of accurate management information.
We shall conduct all corporate activity honestly and fairly, in accordance with societal norms, and in strict compliance with all relevant laws and regulations.
We strive to benefit society and aid regional economies, both domestic and abroad, guided by our mission to operate with the highest of ethics as a good corporate citizen of the international community.
We reject in the strongest of terms any association with anti-social groups who would seek to threaten the safety of the people or disrupt the social order.
3. Internal Compliance Regulations
Our Internal Compliance Regulations include Compliance Activity Standards, Compliance Regulations, and Whistleblowing Regulations.
Compliance Structure
The Compliance Structure is overseen by the Compliance Committee, which is headed by the company president. When a serious breach of compliance occurs, the Compliance Committee establishes a Workplace Auditing Committee to investigate and follow up with the appropriate response and countermeasures.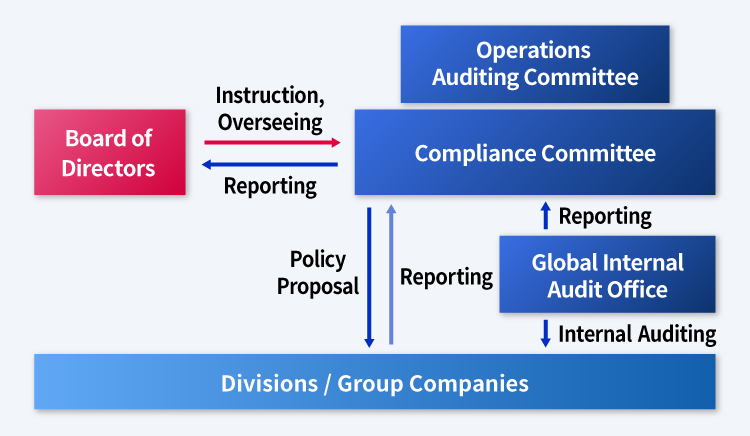 Education
1. Improving Legal Compliance and Awareness
We are always working to raise awareness among group employees of how operate properly within the societal framework, including legal regulations, internal compliance rules and arrangements with business partners.
2. Internal Seminars
Regular seminars are held to increase legal knowledge and awareness as a part of group-wide compliance education.
Sample Initiatives
Risk management education (workplace accident prevention, commuting safety, etc.)
E-learning (quarterly compliance education covering all areas of law)
Compliance seminars hosting by outside instructors (once a year)
Anti-compliance Prevention – Key Initiatives
1. Fair and Free Business Dealings
Policy
Business activities are conducted so when people choose our products and services, it is always based on open and fair market practices.
Measures
We pursue a deep understanding of competition and anti-monopoly law to ensure open and fair competition and the ability to handle anti-compliance risk.
Sample Initiatives
Distribution of Compliance Manual concerning anti-monopoly law
Compliance seminars to cover competition and anti-monopoly law
E-learning (quarterly)
2. Anticorruption
Policy
We maintain healthy corporate activity through proactive prevention of bribery and other corruption.
Measure
Continuous efforts are in place to raise group-wide awareness and improve the effectiveness of anti-bribery measures and anticorruption laws both domestic and abroad.
Sample Initiatives
Compliance seminars concerning what constitutes "Bribery of Public Officials"
E-learning (quarterly)
3. Whistleblowing System
We have established an internal whistleblowing system for group employees to report and consult regarding legal violations in order a safe and pleasant working environment where anticorruption is handled autonomously.
Sample Initiatives
Establishment and operation of domestic/overseas hotline reachable via PC or smartphone