MANUFACTURING
Manufacturing for Serving People
Murakami Corporation is the top domestic producer of automobile rearview mirrors and has been supplying auto manufacturers with quality products for over 60 years.
Our company uses a wide variety of technologies and processes in rearview mirror manufacturing for bending glass, molding resin, equipping electrical components, painting, film deposition, and more. Everything from development and design, to production, to shipment is handled in-house with the goal of realizing excellence in Quality, Cost and Delivery (QCD), and through these efforts we have continued to contribute to the safety and security of the automobile industry.
Even now, we continue to proactively meet changing market needs with new automobile products and business solutions built upon our long history of technological developments.
Murakami Corporation is excited to continue expanding our horizons to find new ways to use manufacturing for serving people.
Developmental Design & Evaluative Analysis
In addition to automobile safety, security and comfort, it has become increasingly important to pursue automotive industry reforms, environmental protection and other sustainability initiatives. Developmental design allows us to meet evolving societal needs quickly and deliver effective solutions. Our Development Department strives to build upon our wide base of existing technologies, such as mechanical engineering, film deposition and circuitry to venture into new business areas and fulfill new market demands.

Product design utilizes 3D-CAD and CAE (Computer Aided Engineering), which allows us to share and simultaneously manipulate 3D data. From the early design phase, we are able to analyze product functionality, strength and durability while improving quality. This streamlines the design process and allows collaboration with other departments as we consider parts procurement and the manufacturing process as well, ensuring a smooth and swift transition to the mass production phase and beyond.

Improvements can begin from the very start of the product development, which enhances QCD, and lets us achieve even greater added value for the entire in-house process flow.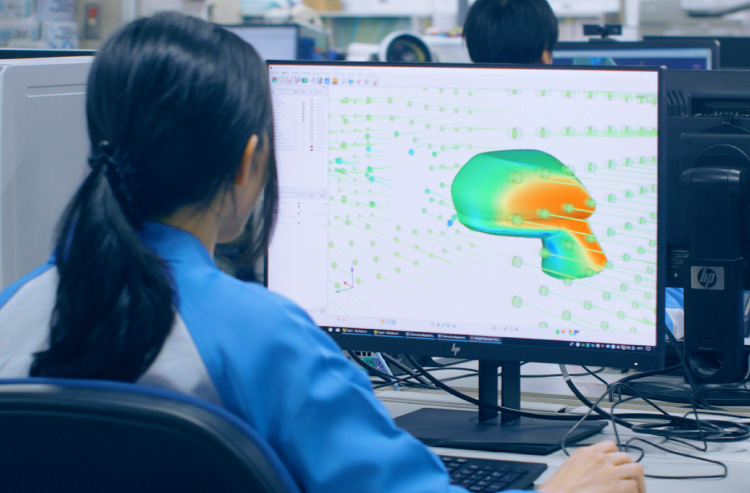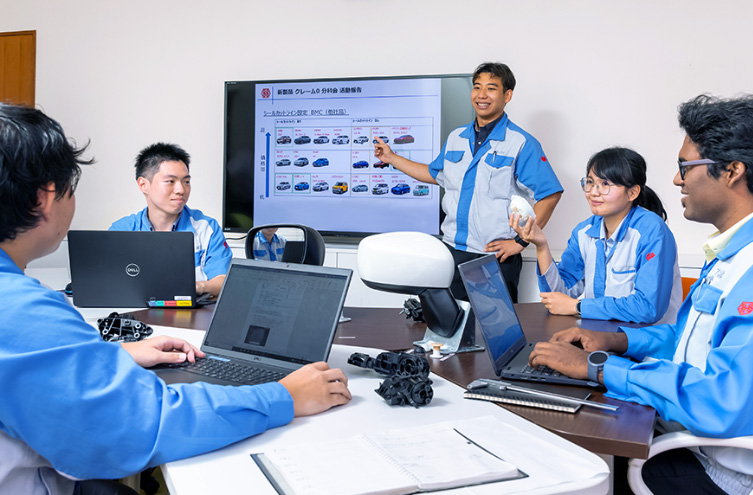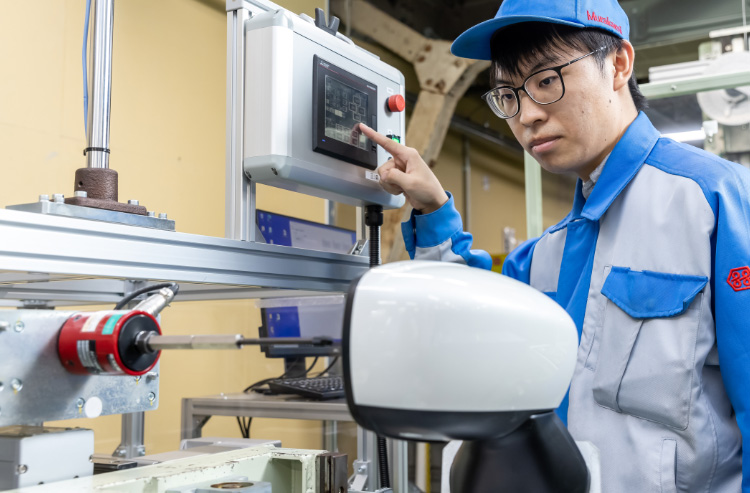 Production & Manufacturing Technology
Preparations for mass-production are handled in the Production Engineering Department. Molding, film deposition, painting, assembly, in addition to many other processes are fine-tuned on manufacturing lines to eliminate waste, inconsistency and futility. The goal is to realize a reliable production line where quality is infused into the product through each and every process, resulting in products with functionality you can trust.
We endeavor to bring in-house the design and manufacture of all critical component technologies, from dies, to jigs, in order to build upon our vast array of technology and knowhow.

In addition, once mass production begins, all on-site manufacturing employees collaborate to achieve improvements in the process. The Murakami Production System (MPS) is built on the philosophy of "total elimination of waste," and to that end, we tirelessly draw from the knowledge and expertise of all employees, and fully utilize available time, space and materials to minimize waste and maximize improvements and productivity.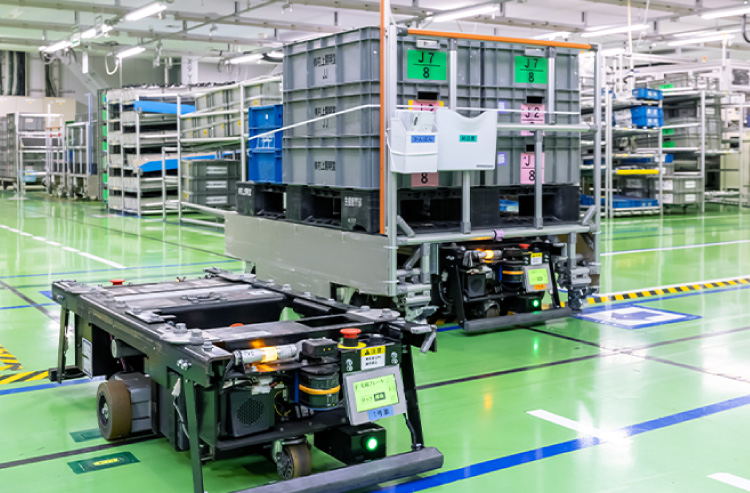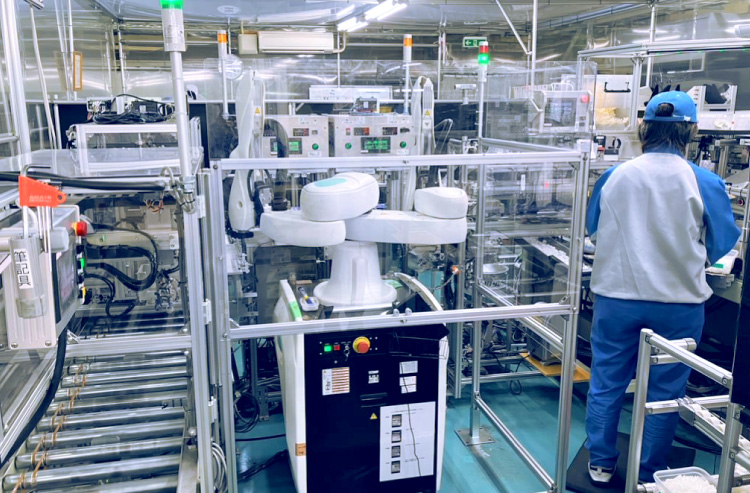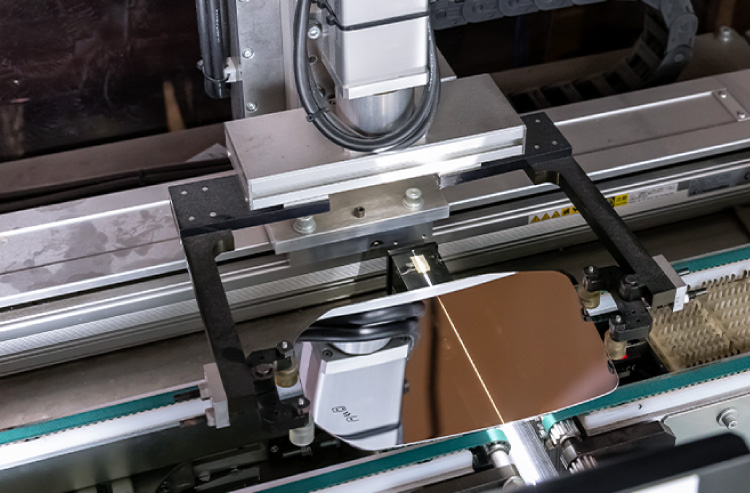 We strive for a continuous level of high quality in our automobile rearview mirrors and all other products. Our quality assurance cycle regularly incorporates customer feedback and product quality data into planning, developmental design, production technology and manufacturing processes which is shared throughout the entire group to enhance technological prowess and our ability to meet consumer needs.
Cultivating Global Talent
Our corporate philosophy of "serving people" drives us to help customers serve the needs of society. However, it also extends to our own employees and how we can make each process simplify the next one and create a more relaxing working environment for all through manufacturing improvements. Each and every person involved in manufacturing finds pride and joy in making improvements to our technology and skills for the benefit of people everywhere, which in turn, fosters our own growth and development.
Building products means building up people. This means fostering talent with determination, pride, technology and skill throughout the entire Murakami Corporation global group, which leads to excellence in QCD across all our overseas bases of operation along with the trust and praise of our valued customers.