PROCUREMENT
Procurement Policy
1. Procurement Activity founded on Open-door Policy
Parts and materials procurement activity is conducted under an open-door policy, both domestic and abroad, with a mind for transparency and fairness.
2. Competitive Strength founded on Mutual Cooperation
We believe in strengthening our global competitiveness through cooperative efforts with suppliers treated as equal partners.
3. Mutual Prosperity founded on Mutual Trust
Through close communication with suppliers, we can build long-term relationships founded on trust that generate mutual prosperity.
4. Respect for the Environmental through Promotion of "Green Procurement"
We procure parts and materials of low environmental from suppliers who respect and care for our environment impact, a philosophy that permeates our entire supply chain and ensures environmentally-friendly products.
5. Legal Compliance and Handling of Information
All dealings are conducted in compliance with applicable laws and regulations.
Any sensitive information received from suppliers is treated with same high level of care as our own internal information.
Key Parts Procurement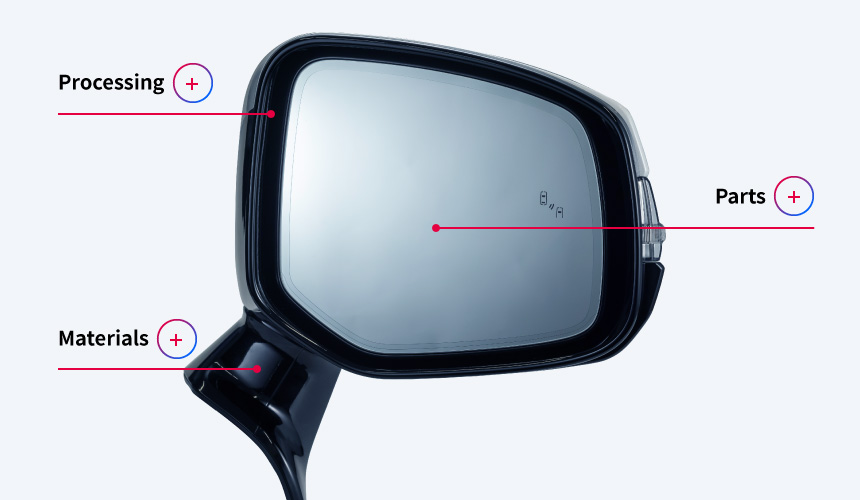 What We Value in Suppliers
At Murakami Corporation, suppliers are treated as equal partners. We seek suppliers with whom we can work closely in accordance with the eight values outlined below.
1. Safety
Safety comes before all else. We value suppliers where safety is built into the entire corporate culture and guided by a strong management team.
2. Quality
Quality is the foundation of all business dealings. We value suppliers where quality is infused into every process from development to pre-production to mass production, and company-wide quality management and quality improvement efforts are the norm.
3. Cost
We value suppliers with whom we can build mutual trust in order to realize internationally competitive pricing.
4. Delivery
We value suppliers with flexibility who can guarantee safe and on-time delivery of all products to meet customer needs in a timely manner.
5. Development
We value suppliers who continue to propose new technologies, production methods and materials to achieve high value-added and affordable technologies for the consumer.
6. Environment
We value suppliers who actively promote initiatives regarding environmental issues and SDGs both throughout their supply chain, from development to production, recycling and disposal in addition to a wide array of areas.
7. Supply Chain
We value suppliers with active supply risk management and a Business Continuity Plan, and who continuously work to strengthen management with comprehensive and systematic prevention and response measures.
8. Compliance
We value suppliers who go beyond legal compliance and stand as a positive moral and ethical example for the corporation and all stakeholders.
Procurement Application
Prospective suppliers are invited to send us your information by clicking the Submit Application button on the right. (Please only use for supplies/procurement related requests.)
We will contact you separately after reviewing your application.
Environmental Initiatives
Murakami Corporation recognizes we are blessed with an irreplaceable source of natural abundance here on Earth, and all corporate activity is conducted in a manner preserve the health of the planet for future generations.
1. Carbon Neutral
Proactive efforts spanning the entire supply chain are made to reduce CO2 emissions and prevent undue climate change.
2. Green Procurement Guidelines
Our Green Procurement Guidelines serve as a foundation for efforts to prioritize the purchase of products, parts and materials that pose minimal risk to the environment.

Processing
Assembly
Coating
Resin molding
Glass/mirror processing
Painting
Materials
Resin
Paints
Deposition materials
Auxiliary materials
Parts
Electronics
Harness
Electrical components
Press, spring, screws, sintering
Motor
Panel heater
Plate glass
Chrome mirror
Die cast
Plating
Turn signal light
Rubber